THIS was my favorite acquisition from Crafty Wonderland this year.
A Party Bird
! For only $5!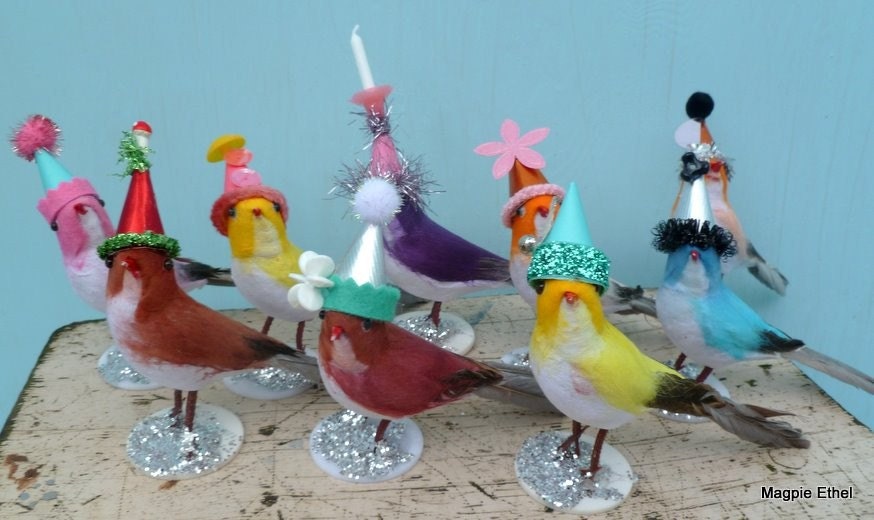 I recommend you check out this
woman's Etsy shop
, called Magpie Ethel, and get your own Christmas crafts to cheer up your life year-round.
And thank you to this very lovely lady,
The Paper Mama
, for posting photos & bits from Crafty Wonderland on her blog. I think she loved the party birds as much as I did.
I made ten pounds of garlic roasted brussel sprouts with "Jeb" yesterday, which was a very athletic activity. A lot of pan carrying, stirring, oven opening and closing, chopping, etc.
In the process, we ate too many brussel sprouts, which I
did not know could happen to a person.
Also, do you ever play Pictionary? I LOVE IT. I make up my own words.
Hardest words from holiday Pictionary (meaning ones that we couldn't guess):
Inspiration (try drawing THAT!),
Irritable Bowl Syndrome (drawing included an angry person, & steaming pile of you know what) ,
and
Sesquicentennial (drawing included a sasquatch and a calendar, with lots of arrows).
I would like to nominate
Chelsey Johnson
for quite possibly the BEST Pictionary achievement, this being getting her team to guess the word(s) "Cultural Appropriation".
She drew a dude with a moustache & a flannel shirt.
Then drew Oregon, with a star on Portland.
This got her team to eventually yell "Hipster!" ,
THEN she drew a Native American headdress on him, and at the last
minute as the clock wound down, someone yelled "CULTURAL APPROPRIATION!!!!!!!!!!" .
It was a magnificent day for Pictionary players everywhere.
I hope you are relaxing this holiday Monday.
What did you eat? Did you get anything good?
xoxo
n.g.